Merchandising
Merchandising is creating a professional sales and service environment.
Customer Experience Experts has a complete line of visual marketing products that will bring life to your "sales floor."
Don't miss valuable sales opportunities with boring queue lines, cluttered customer service areas and blank walls. Deliver your message while you have your customer's attention.
Customer Experience Experts can help you with:
Promotional signage displays
Directional signs
Compliance/Regulatory Signs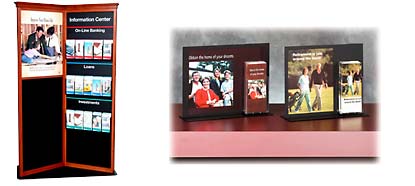 Custom Signage
We do unique customer work such as backlit displays, online banking kiosks and more. Representing Kane Graphical's fine line of customer manufactured sign systems, we can create a kiosk in various shapes and sizes with copy panels and literature pockets to suit every situation. Of course, all signage displays can include your company brand look and colors.
Specializing in Bank Signage Needs our product line includes:

Teller Information Systems
Includes teller name, member FDIC, funds availability policy, courtesy ID, bank logo, and any customer message that is important to your organization.
Customer Service Desk Information Systems
Includes CSR/MGR or Loan Officer's name, Patriot Act, Business card holder, ChexSystems logo, and other important disclosure information.
Complete your merchandising with...
Lobby Poster Frames in single, double or triple framing units
Kiosk Displays, customizable with interest rates, poster(s) and brochure pockets
Showcase Units featuring space for an 8-1/2 x 11 poster and "take-one" pocket(s)
Drive-up and ATM machine signage/weather-proof frames
Regulatory Sign Systems, sectioned for your convenience as compliance needs change
Safe Deposit Box signs
Departmental and directional signs
Welcome and other special message signs including your tagline or mission statement
Site Survey... an added service for busy clients
We will do a site survey of your offices and make recommendations to help you maximize your current branch merchandising opportunities and clean up the clutter. Just contact us for a quote!

© 2023 Customer Experience Experts
717-371-5310 |
Request a quote
"You never really lose until you quit trying." -- Mike Ditka